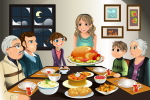 An original Thanksgiving tale about your storyteller, Alan. It is a story of how he began the career of storytelling when he was seventeen years old.  Hear about his memories of a Thanksgiving long ago in California, where a moment of inspiration lasted a lifetime.
Be sure to also enjoy these three Thanksgiving stories, right here on The Story Home website, "Thanksgiving at Grandfather's Farm", "The Thanksgiving Stone", and The Night Before Thanksgiving".
Have a wonderful Holiday!
The Thanksgiving Storyteller
Play Now
|
Play in Popup