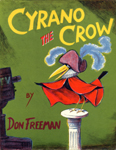 Cyrano, a crow with a large bright yellow beak, lived in Farmer Ferguson's mailbox. Every morning he loved to practice his favorite bird calls while his friend Harry Scary the scarecrow listened. One night, Cyrano saw a man on TV, doing imitations of birds just like he did. Cyrano knew he could do better than the man on TV, and Farmer Ferguson agreed. A remarkable adventure began when Cyrano traveled to New York City to be on television, and learned a valuable lesson in the end.
Special Thanks to Radhika Miller for her wonderful music from her "Heaven" Album.
NOTE: The excerpt is 4:59 long.  The full length downloadable story is 14:28 long.
Cyrano the Crow Excerpt
Play Now
|
Play in Popup