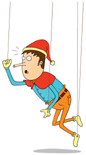 Pinocchio's father, Geppetto, was very sick, so each day Pinocchio took care of  him and worked very hard to save  money. Seeing how well Pinocchio cared for his father, the blue fairy knew that the little puppet's heart was truly kind and nearly human.  As with many fairy tales, those who struggle to find happiness are justly rewarded for their goodness and patience.  Listen now to the final chapter of Pinocchio and see why the blue fairy granted him the special reward he deserved.
If you enjoy this story, be sure to listen to our other Pinocchio story.
Special thanks to Radhika Miller for her beautiful music from her Arabesque album.
Pinocchio Becomes a Real Boy
Play Now
|
Play in Popup