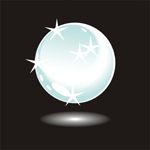 An enchantress changes her two sons into an eagle and a whale in order to keep her powers to herself. But her third son, the youngest, escapes this fate and begins an amazing journey that will take him to the Castle of the Golden Sun. There he not only meets a princess but unlocks the key to releasing his two brothers from their mother's spell.
Join us now in celebrating The Story Home's fifth anniversary year by listening to this venerable old tale penned by The Brothers Grimm.
Special Thanks to Radhika Miller for her beautiful music from her "Here and Faraway" album.
The Crystal Ball
Play Now
|
Play in Popup