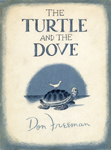 The white Dove had been flying over the ocean for a long time and was growing very tired. She needed a place to rest her weary wings, but all there was, was an endless ocean. Suddenly, she spied a round tiny island. But was it an island? Hear how Dove finally finds a place to rest and in the process makes a new life long friend in this special Don Freeman story.
Note: The full length downloadable story is 8:09 minutes.
Special Thanks to Radhika Miller for her beautiful music from her "Sunlit Reverie" album.
The Turtle and the Dove Excerpt
Play Now
|
Play in Popup