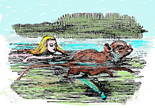 As we continue with Alice's adventures in Wonderland in this second chapter, "The Pool of Tears", we find her having a very difficult time being so many sizes. She also meets a mouse, who like herself, is caught in a very large pool of salt water. Listen now and hear how Alice is handling her situation in this creative chapter written by Lewis Carroll.
If you missed chapter one, you can find it at https://thestoryhome.com/2013/04/01/alice-in-wonderland-chapter-1/
Special thanks to Radhika Miller for her beautiful music from her "Arabesque" album.
Alice in Wonderland - Chapter 2, The Pool of Tears
Play Now
|
Play in Popup