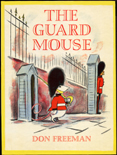 Clyde the guard mouse, guarded Buckingham Palace. He was proud and happy with his duties for the Queen, keeping small creatures from creeping through the openings in the Palace wall. One day, his cousins from New York City came to visit, and asked him to take them on the Grand whirlwind tour of London, which he did. Listen to this wonderful classic Don Freeman story and hear a mouse's eye view of London, along with a few very interesting surprises!
Special thanks to Radhika Miller for her beautiful music.
NOTE: The Free excerpt is  3:22 minutes long.  When you purchase and download the full story it is 8:47 minutes long.
ALSO: You may be able to find a copy of the printed book at your library or on Amazon.
The Guard Mouse, Excerpt
Play Now
|
Play in Popup