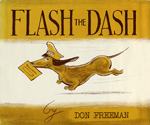 A rather sleepy little Dachshund named Flash is asked by Sashay, his mate, to be productive and find a job to earn their living. The little pooch tries delivering telegrams around town and does very well until one day he gets the surprise of his life when he discovers a telegram addressed to him!
To hear this entire 8:46 minute story by Don Freeman, author of the well known "Corduroy" stories, you can download it on The Story Home website for only $0.99.
Here is a three minute excerpt, enjoy!
Flash the Dash, Excerpt
Play Now
|
Play in Popup