About The Story Home
Mission Statement
The mission of The Story Home is to provide original and classic children's audio stories, to delight and inspire children and their families, throughout the world.
The Story Home offers an authentic place for curiosity, imagination, and self discovery.
Meet The Story Home Folks: Alan and Sharon Scofield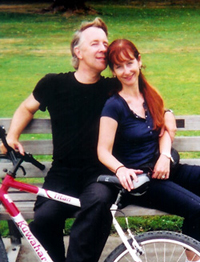 Sharon and Alan Scofield live in Northern California and share the love of music, dance and many creative projects. Alan has a daughter who is grown and also lives in the area.
The Story Home website was created in January, 2007 because, as time went on, more and more people asked to hear Alan's original stories. At first, we gave Alan's stories as gifts to our friends and family. Though they were meant for children, we found that many parents liked them too!
One day, we thought "why not share these stories with the world, and some great classic tales as well?" And so The Story Home was created.
As the weeks and months roll ahead, we hope you will enjoy our podcast, website, Albums and Apps, and invite your friends and families to visit The Story Home beneath the stars, discovering the wonder and wisdom found in a good story.
ABOUT ALAN (The Story Teller)
Arts Educator, Author, Storyteller, Nationally known Master Teacher of Dance and Founding Director of Young Imaginations Arts Education Agency.
Alan Scofield,  President and co-founder of Purple Button Media, LLC and The Story Home wears many hats in his work. He has been called the "Danny Kaye of the North Bay" because of his magical connection with children through music, stories and dance. As an educator for thirty years he has touched the lives of a generation of public school children in Northern California and across the nation, and is now passing down his techniques of teaching to today's arts educators and classroom teachers.
Twenty five years ago, he co-founded Young Imaginations, Northern California's acclaimed arts-education agency and joined the College of Marin's Dance faculty as a master teacher and choreographer. He has led the way for Bay Area arts educators and classroom teachers to impart the California State Educational Standards using skills and strategies of the performing arts.
For classroom teachers, Scofield has developed unique teaching methods to help engage young learners and evoke creativity. He is the co-author of "Being in Motion", a multimedia teaching package designed to help teachers foster focused attention through somatic activity and awareness. He is also an educational consultant, and often asked to provide trainings in creative teamwork for teachers, administrators and corporate leaders, providing mentor-ship in arts integration and curriculum development. His in-service workshops help classroom teachers place the arts in the core of the educational process.
Alan is also the author for all the original stories for The Story Home and has written over thirty eight stories as of 2011. He has the natural gift of a storyteller whose inspiration provides an unending source of idea's, keeping The Story Home rich in content and a place to spark the imagination.
As the voice of The Story Home, Alan has become well known throughout the world by millions of children who request an "Alan Story" before they go to bed each night. His calming voice has led The Story Home to the top of the list as a premier storytelling podcast, website, Albums and iPhone/iPad apps.
Scofield states: "I have seen the power of a story transform a room a thousand times. The true teacher is a storyteller, and a good story teaches."
ABOUT SHARON
CEO Purple Button Media and Co-creator of The Story Home, Teacher, Dancer, Editor and Producer.
Sharon has bridged two worlds through her business experience and her artistic talent. Her discovery of the arts began as a child with the study of classical piano and viola. In college she studied voice and continued with private voice lessons, while earning a B.S. in business management with an emphasis in marketing.
Sharon also wears a business hat having worked for four years in the corporate world as an account executive for McGraw-Hill companies with fortune 500 companies. With her knowledge of business, publishing and the arts, she found a way for all children to hear Alan's wonderful stories through the creation of The Story Home and Purple Button Media.
As CEO, Sharon is responsible for acquiring new business and running both companies. She is the driving source of the businesses and oversees all material used on the podcast, website and products as well as meticulously editing and producing all content.
In 2011, she designed and managed the development team in creating The Story Home's first Apps while building Purple Button Media, a publishing company, which became an LLC in the same year.
After becoming a mobile developer, the company started to expand and Sharon negotiated two licensing agreements to produce mobile devices and e-Books for sixteen Don Freeman children's stories.
Sharon is looking to taking the companies forward, expanding products and utilizing new technologies to follow the vision of The Story Home.
Sharon states: "We believe that the imagination of a child is a priceless resource and must be given time, encouragement and education."
ABOUT JANE ROGAN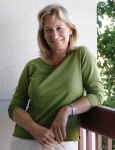 Jane brings her expertise in corporate communications.  She is a talented writer, actor, teacher and mom.
For twenty-five years, Jane has developed a career in small and large organizations, primarily communications strategy, media production and copy writing.  As an integral part of The Story Home family (Sharon's sister, Alan's sister-in-law), Jane is applying her experience  to develop relationships with sponsors of integrity who will help fund the operations and outreach of The Story Home to children and families seeking high-quality entertainment.  Jane and her husband live in the North Bay Area where they have brought up their two daughters on the love of stories.
ABOUT VIRGINIA SARGENT
Virginia and Sharon join forces again with The Story Home newsletters, marketing, and publishing. Earlier, they worked together at a major publishing house, where they were part of a sales and marketing team that crafted custom publications for leading Silicon Valley companies. They first met in Alan's jazz dance class as students and performers. Both women share the ability to work well in business and creative worlds. Virginia also brings a background in marketing communications and project management. She is on hand to help The Story Home tell its own story, as well as developing new markets for the stories.